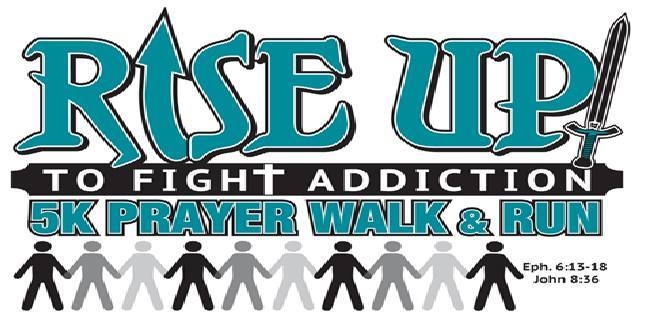 The purpose of RISE UP is to bring the community of Aliquippa and Hopewell Twp. together and increase awareness of the destruction addiction is having on individuals, families and our community.   The prayer walkers and runners of all faiths will have an opportunity to join together in prayer to break the strong holds of addiction.   All proceeds from the event will go toward purchasing a Drug Detecting K9 for the Hopewell Police Dept.
  Participants would begin the prayer walk/run at the Aliquippa City Building and follow a route that would lead into Hopewell Twp. with the final destination being Wildwood Chapel.  Four Hydration stations manned by local churches would be set up along the route.   Each station will present the prayer walkers with a card that highlights a specific addiction.   The card would be informational on one side and the reverse side would list prayer points and scripture.   The areas of addiction covered would include: Drugs, Alcohol, Gambling and Sex/Pornography. 

  At the end of the prayer walk participants would have the opportunity to visit booths from organizations and ministries who deal with specific addiction.   Participants can enjoy food from local vendors, experience some fun children's activities, win door prizes and connect with people from the greater Aliquippa area.  The event would conclude with a Chinese Auction of items and baskets donated by local businesses and concerned individuals.

We are looking for volunteer workers   to help with the following"
       Help set up tents and prepare for the event

       Help prepare the route and put up signs


       Help direct traffic and park cars

       Help direct the walkers and runners

       Help at one of the four hydration stations

       Help tear down tents and clean up (Sunday September 24th beginning at 1:00 pm)

       Anywhere help is needed
Volunteer Worker Sign Up Form
Submit